Daycare
At Half moon Kennels we provide a fun-filled, healthy, approach to caring for your dog. Dogs thrive off mental and physical stimulation, and we provide both in our daycare. Daycare is a safe and convenient way to encourage socialization and positive behavior with other dogs.
Dogs are social animals that can get lonely, bored, or into mischief when left alone. Dogs that are provided with proper exercise and engagement are happier and healthier. Daycare will give you peace of mind, that your dog is in a safe place, having fun vs waiting for you to come home.
At Half Moon Kennels we provide a day filled with action-packed play, fun, socialization, and rest!
We offer your dogs:
The chance to mix and mingle with other dogs and people
Physical, mental, and social stimulation
Structured free play, personal/individual play, and nap/quiet time
Agility ramps and tunnels
Multiple shady yards consisting of, timber, grass, cement, and artificial grass
Constant supervision by a trained staff
Daily picture updates on Facebook
*All dogs capable of group play are matched with others based on similar temperaments, play style, and age. Your dog's safety and well-being are our highest priority. Dogs who prefer the peace and quiet or, spending their play time with humans' vs dogs, can still attend daycare! They will get all the individual playtime they desire without the stress or anxiety from other dogs.
Our intention at Half Moon Kennels is to make your dog feel right at home while you're away! Send your dog wired and we'll send them home tired. We ensure your dog will have the time of their life playing with their pup and human friends, in a safe, and caring environment. We will become your dog's favorite place to visit. After a fun filled day with us, they will come home ready to relax. We know your dog will love Half Moon so much we offer all new customers a 'Free First Day'.
Cost:
$24 a day
$14 for half a day
*Special pricing offered for multiple dogs, punch cards and, subscriptions
M-F 6:30 am – 12 pm 3:00 pm- 6:30 pm
S-S 8:00 am – 12 pm 3:00 pm – 6:30 pm

12pm-3pm is doggie quiet time

Quiet time gives your dog the chance to rest and enjoy lunch or a snack before their second play session!

No drop offs or pickups during quiet time.

No daycare on holidays.
Half days are from 6:30am -12pm or 3pm-6:30pm
Full days run all day! You can drop them off anywhere between 6:30am- 12pm (M-F) and pick them up anywhere from 3pm till 6:30pm! The earlier you bring them; the more playtime they have!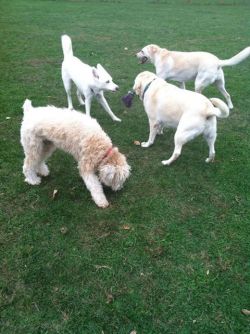 Visit Us Today!
Hours
Mon-Fri: 6:30am-12pm & 3pm-6:30pm
Sat-Sun: 8am-12pm & 3pm-6:30pm
12pm-3pm is doggie quiet time

3181 Half Moon Ave NW
Tiffin, IA 52340
4 miles west of the Coral Ridge Mall just off HWY 6